Office Partitioning Worcestershire & Cheltenham
Think Partitioning, Think Worcester CMP
Worcester CMP is a design-led glass and office partitioning company based in the heart of Worcestershire. We expertly divide spaces by applying our combined 40 year experience and enhancing your office space to ensure each area or room has its own level of privacy with a partitioned wall.

Whether you're looking for composite aluminium, solid or glazed partitions, we've got a solution that can help. At Worcester CMP we are also proud to offer a complete turnkey service, that includes everything from the initial design, through to the installation of your partition walls and any other work that is required alongside partitioning your walls such as the plumbing, electrics, decorative aspect or even suspended ceilings.
Full height glazed office partition for a Cheltenham based client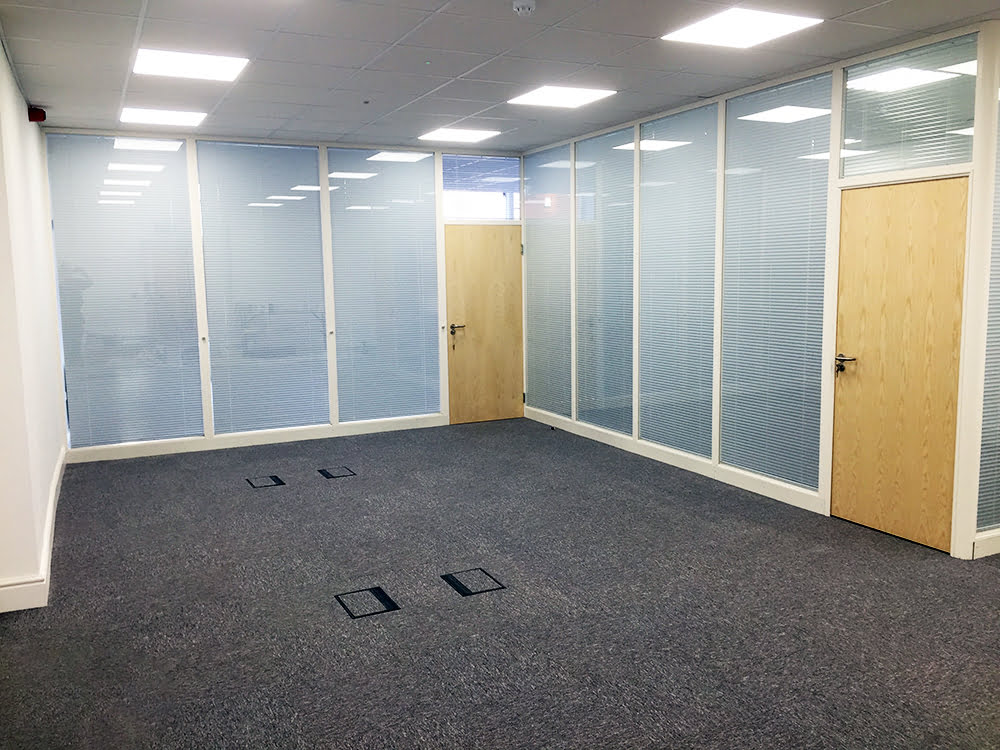 Full height glazed office partition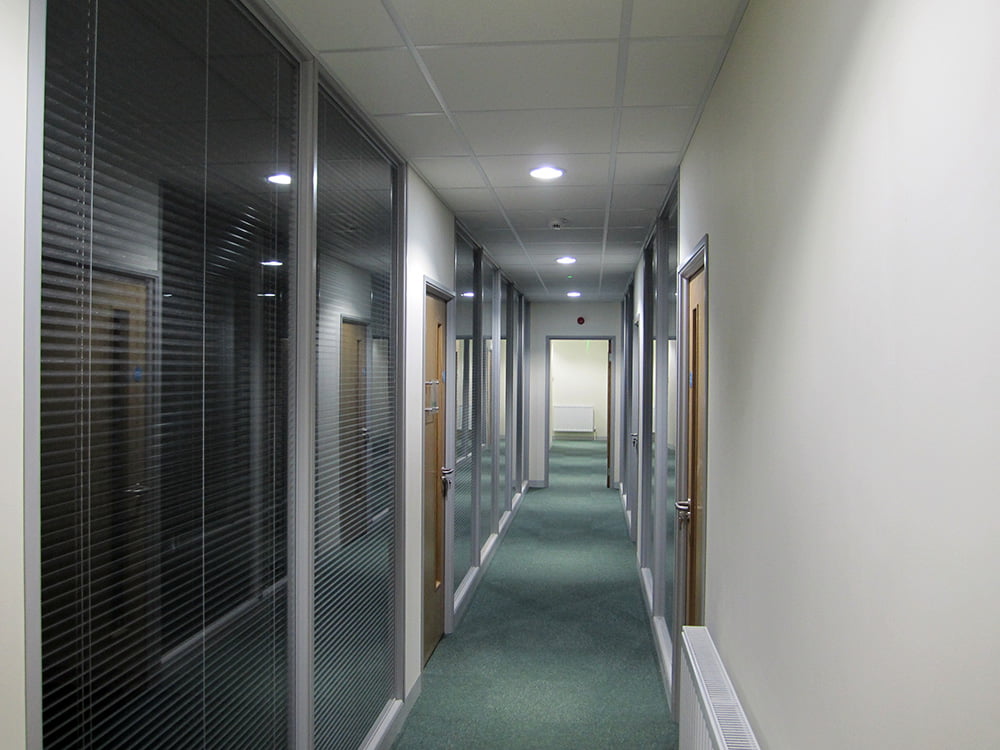 Glass Office Partitions Worcestershire
Whether your business is based in Worcester, Worcestershire, Cheltenham or elsewhere, we've successfully installed glass office partitions all over the UK, quickly and affordably.

A glass partition offers a sleek and modern solution that separates the office space inside your business. Whether this is for an office, a meeting or conference room, we can also install soundproof partitioning for an extra level of privacy as required. We are also able to offer other various forms of glass room partitions, everything from frosted to completely transparent glass solutions. No matter how big or small the job is we've got a tailored or off-the-shelf solution that can be tailored for your individual needs to achieve the look and style you need for your business.

Contact Us today for our expert, personal and affordable office partition services.
Curved Partitions Worcester & Cheltenham
Does your business or office premises have a curvature? Need a curved partition wall? This won't be an issue, we can also install curved partition glass walls too!

Each and every office building is designed uniquely when built, not every building or office is square or symmetrical, this is where we can create complex shapes to fit any style of building space with our curved or complex partition wall service. Contact us to discuss more now!

Whether your building or office is curved or you require a complex or custom shaped office partition we've got the experience and expertise to provide you with an affordable and bespoke solution quickly and affordably. Reach out to our friendly experts today to get a free, no obligation quotation.
Full height glazed office partition for a Cheltenham based client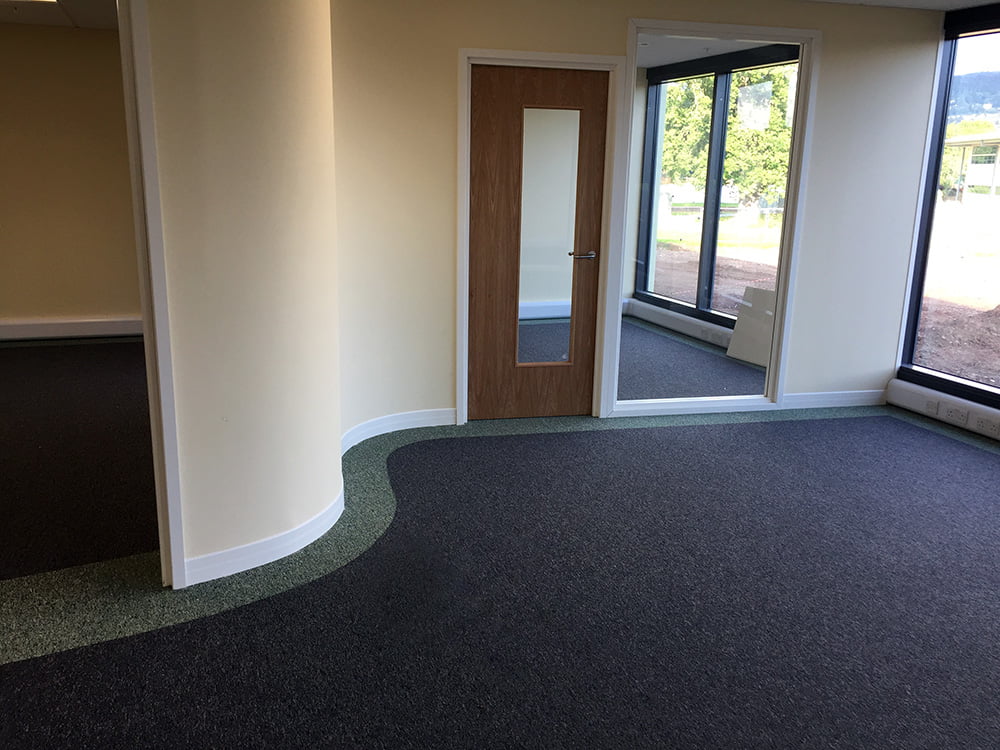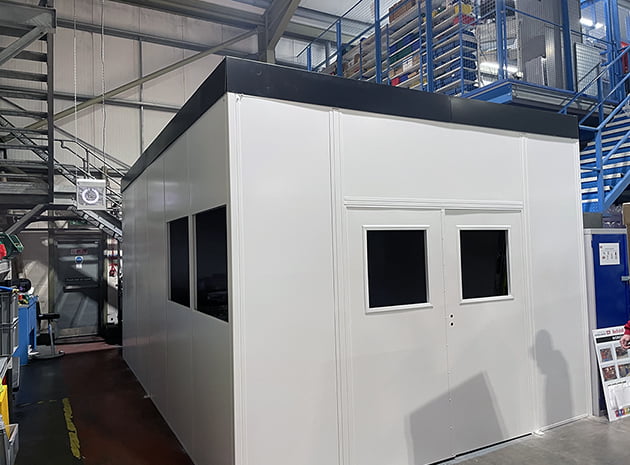 Steel Partitions Worcester, Cheltenham
Steel wall partitions often come in either a single or double-skin steel they are framed up so they can support heavy duty panels and are highly durable. Typically, we install steel partitions for warehouses and or industrial premises due to their strength and support capabilities.

Generally, single skin steel partitioning tends to have wire windows with a limited range of insulation capability. These are ideal of storage and warehouse dividing purposes; whereas, double-skin steel partitioning has the ability to add more layers and is ideal for fully enclosed areas with increased thermal and acoustic enhancing properties. Contact us today for a free consultation and quotation to see how we can help you with your steel wall partition.
Office Partitioning FAQ's
Office partitioning can offer a number of benefits, including increased privacy, greater flexibility in office layout, improved acoustics, and more efficient use of available space. It can also be a cost-effective way of creating the appearance of a more professional workplace, which can have a positive effect on employees and customers alike.
Full height walls: These partitions go from floor to ceiling and offer the most privacy and acoustic properties and can have windows installed.
Half-height walls: These partitions stop short of the ceiling, which allows for more light and better air flow, and are a good option for spaces that require demarcation but also a sense of openness.
Frameless Glass partitions: These partitions offer a modern look and let in more natural light, but can be more expensive depending on design.

Framed Glass partitions: These partitions offer a glass look with acoustic properties.
Moveable partitions: These partitions can be moved to create different configurations of office space and are a good option for businesses that need flexibility.