Mezzanine Floors Worcestershire & Cheltenham
Custom made, mezzanine flooring systems
At Worcester CMP we have installed a multitude of mezzanine floors of all shapes and sizes nationwide over our 40 year combined experience, whether you're looking for a custom or bespoke mezzanine floor, or need a simple second floor adding to your business to utilise the space, we've got a fast and affordable solution for your project. Our aim is to always provide you with a personalised service from start to finish. The weight load capacities our mezzanine floors typically hold are as follows:
Weight Load Capacities
Office Loading: 3.5Kn/m2. Storage Loading, 4.8Kn/m2 or above.
We Supply and Fit Mezzanine Floors
Whether you're looking for supply only or a supply and installation service we've got the perfect solution to help you get the most from your building layout. Our friendly team of experts will make personalised recommendations on how to best utilise the space you have to maximise your second-floor space and improve the working area with our tailored mezzanine floor solutions.
Recent Fire Rated Mezzanine Floor Project For a Worcester Client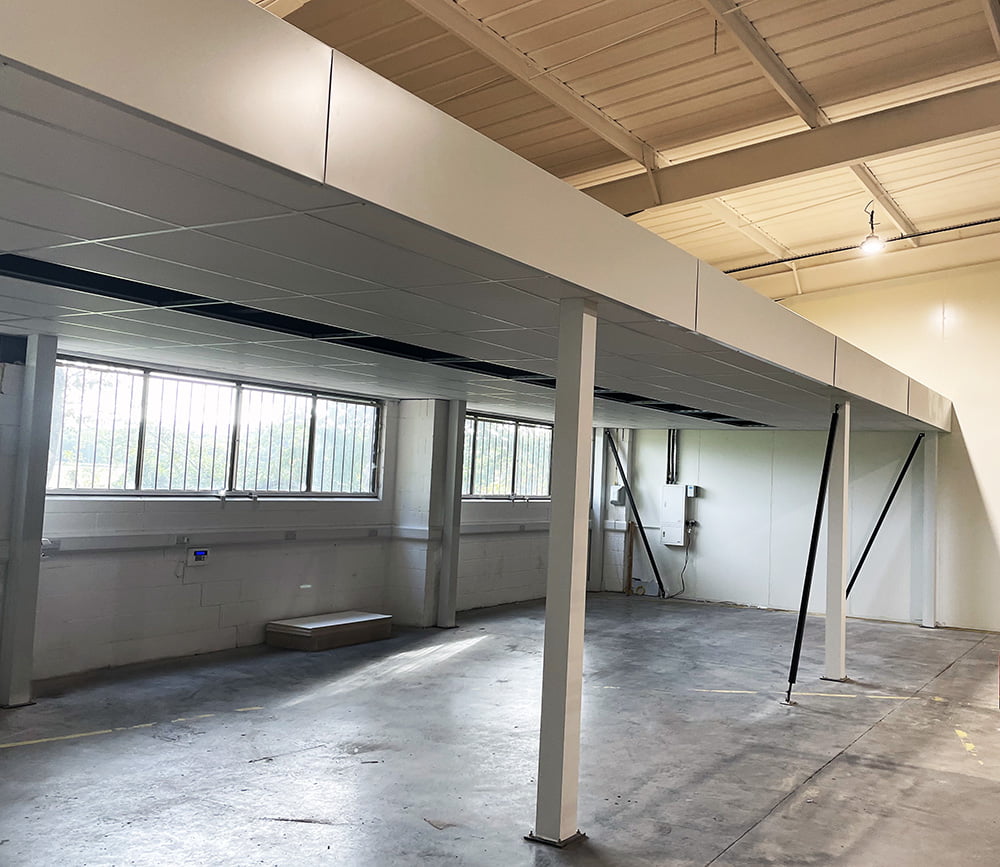 Custom Mezzanine Floor Worcester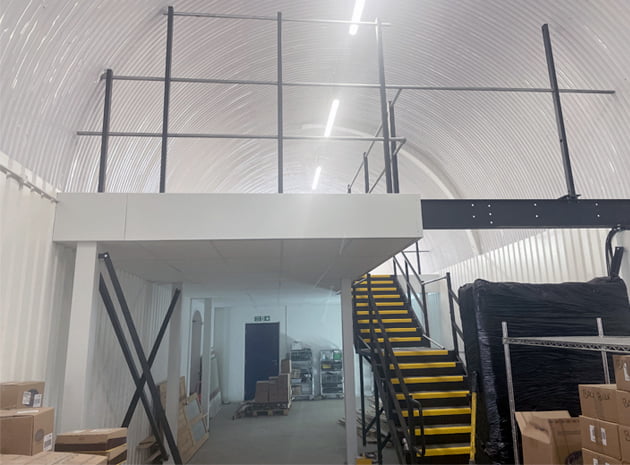 Contact our mezzanine floor experts on 01905 611 339 we'll give you a free initial consultation and make some recommendations. We'll then arrange a good time to visit your premises and take some measurements and make some personal proposals.

We'll then pass this to our internal CAD Team (computer design team) that will mock up a preview of how your mezzanine floor will look whilst adhering to the latest Building Control Regulations creating a fully certified mezzanine floor, we will stay in touch with you along the way to keep you fully up-to-date with the build for a stress-free project.
Custom made, mezzanine flooring systems
We've worked with a multitude of companies that require additional office space due to either growing or running out of space, rather than moving into a larger office building or undergoing costly structural changes. Our clients have opted for a smart choice of getting a second office mezzanine floor space added to their existing building.

This doesn't require any planning permission and is the fastest, most affordable way of making use of your current office space.
We Supply and Fit Mezzanine Floors
- Production Mezzanine Floors A very fast and efficient way of maximising your manufacturing space, industrial mezzanines are a smart and valuable way to improve your staff and production output to meet customer demands. No need to move into a bigger building, just go up! - Warehouse and Storage Mezzanine floors Looking for the best without sacrificing your project budget? Are future-proof office and storage mezzanine floors are designed with you in mind. If you need extra storage space or want to get some extra space in your warehouse, perhaps an additional office or more space for stock. We've got a tailored solution to help take away the burden of your project.
Popular mezzanine floors we fit around Worcestershire and Nationwide